One of American road racing's rising stars may have set the tone for another championship campaign – this time, in sports cars.
Sixteen-year-old Tristan Nunez spent the majority of 2011 penning a title run in the open-wheel Skip Barber Summer Series. However, he bookended last season with four appearances in IMSA's Cooper Tires Prototype Lites series. These excursions were successful ones, as Nunez collected two podium finishes at Sebring (Fla.) International Raceway and a third one at Road Atlanta.
The South Florida resident found that he wanted to take a different path and now aims to be a future star in the American Le Mans Series. He's contesting the full 2012 season with the Lites operation of ALMS team Performance Tech Motorsports, and last week, he got off to a flying start as he swept the two season-opening races at Sebring and set a laundry list of new records in the process.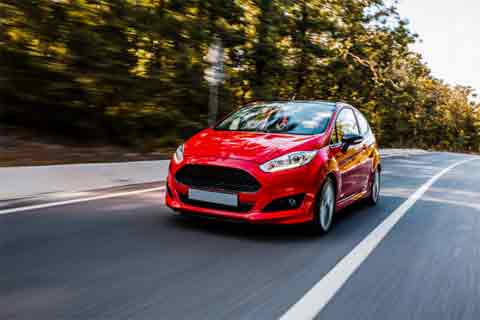 Nunez was – and still is – expecting big things this year. But he's still surprised about his stellar opening weekend, which saw him become the Lites series' youngest winner and pole sitter ever, as well as set Sebring lap records for the Lites series in both qualifying and race mode.
"I was never expecting to do this well in my first [full-time] weekend," said Nunez, who drives the No. 16 Mazda-powered Elan DP02 Prototype for Performance Tech. "I don't think you can have a better weekend than I had. I think it's a sign of the whole season going well."
After being at or near the top of pre-race testing and practice sessions at Sebring, Nunez threw down a 1 minute, 59.536 second blitz around the famous 3.67-mile road course to win the pole for the first race of the weekend, a 30-minute run on Thursday.
The race began inauspiciously with a yellow on the opening lap, but once the action went back to green, Nunez went to work. With his strategy being to, in his words, "push the whole way through," he created a gap of almost eight seconds between him and his closest competitor within five laps.
It was over before it really began, as Nunez took the checkered flag by a monster gap of 20.864 seconds for a historic victory. But the second race on Friday, a 45-minute affair, saw Nunez and his Performance Tech team take a different tack as opposed to their go-go-go strategy from Thursday.
"[Friday], we decided to back it down a little," he said. "As it was a 45 minute race, we decided that we would just try to maintain the car and push at the end if there was competition behind [us]."
Starting from the pole again, Nunez was able to build a lead despite racing more conservatively than the day before. Multiple caution periods made things more interesting, but Nunez was able to withstand the restarts and hold the point every time. He would pull away again to take another victory, this time by about six seconds.
All in all, it wasn't a bad way to start a budding career. He'll have some time to celebrate too, as the Lites series doesn't return to action until late April at Miller Motorsports Park in Utah. But while he already has experience at some of the tracks that the Lites race on, MMP is one of the tracks he hasn't raced yet.
It'll be another learning experience for the young racer, who may reach the ALMS earlier than expected if his results remain strong throughout the season.
"[Performance Tech] does have a [Le Mans Prototype Challenge] car, a first class prototype, so once I finish the championship this year – and I hope we'll win the championship this year — the plan is to move straight into the LMPC car," Nunez said. "We were talking about putting me into the car at Petit Le Mans, but we'll see how the title goes and if everything goes as planned."
The potential opportunity has Nunez excited about what may be in his future. He's reminded of it every race weekend when he sees his team's LMPC machine that races in the top-level ALMS, an Oreca-built car capable of 430 horsepower.
"I can't even explain how much I want to be in that car," Nunez said with enthusiasm. "Just being around it every weekend and watching the team work on it…It is killing me to get inside that car."
But right now, he'll have to bide his time. Surely, he knows that he's got a pretty good situation on his hands: Being on the verge of joining the top tier of North American sports car racing at just 16 years old. People are taking notice too. The Floridian was often times surrounded and congratulated by the professional ALMS drivers and was recently picked up by BRANDed Management for representation.
It takes a mix of talent, courage, and confidence to pull that off. After all, while most people his age also take part in sports, they probably don't have to worry about the daunting prospect of going into a concrete wall at speed.
Nunez, having been a highly regarded tennis player when he was younger, sees the difference.
"Tennis is a very mental sport and it's hard to keep 'in the zone' as they say," he explained. "But racing is just as physical and maybe more mental because of the survival aspect when you're in the car. Every lap, every time, your life is on the line. If you have one mistake and you take your mind off of things, you could end up in the wall. I guess that's the scariest part of racing: The stakes are higher."
So what makes him tick? What makes him decide to put himself in harm's way for victory at such a young age?
"The adrenaline that's pumping when you're on the track is so ridiculous, you don't think about [the risks]," Nunez said. "You're just focusing on hitting your marks, getting everything right, going for passes — it's really hard to explain.
"I honestly don't remember half the things that happened in the race when I get out of the car. It really is a whole different world out there when you're inside the car. I have to look at the video afterwards to really see what happened."
That's understandable. But if Tristan Nunez continues to build throughout the Lites season on his spectacular effort at Sebring, he'll likely have no problem at all catching up on everything after the checkers fly and the trophy is won.