Not too many years ago, Carl Edwards was working as a substitute school teacher. Today, he has backflipped his way to NASCAR superstardom.
The Missouri native comes from a racing family, as his father, Carl, Sr., raced modifieds and USAC midgets, with over 200 wins to his credit. Carl, Jr. began racing in 1993 in Minicup cars. From 1994 to 1996, he won 18 races in the MMRA National Future Stars Minicup Series. Edwards also competed in IMCA dirt modifieds and late models, the NASCAR Weekly Racing Series, and USAC.
In 2001, Edwards ran seven races for MB Motorsports in the NASCAR Craftsman Truck Series, and one Busch Series race for Bost Motorsports. Jack Roush took notice of Edwards and signed him up to run the Truck series full-time in 2003 in the #99 Ford F-150; that year, Edwards won three races, finished 8th in points, and won the Rookie of the Year title. He added three more wins and a 4th-place points finish in 2004; in August he made his Nextel Cup Series debut, replacing Jeff Burton in Roush Racing's #99 Taurus for the rest of the season.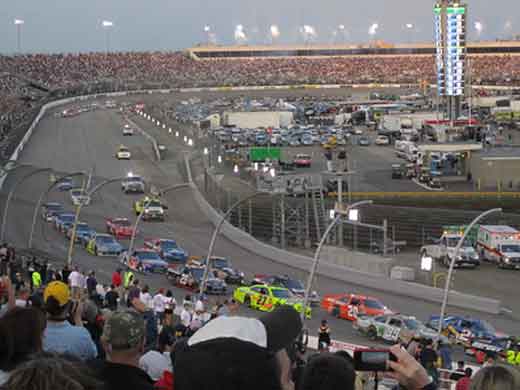 Edwards ran both the Nextel Cup and Busch Series full-time in 2005. On March 19th and 20th, he won the Busch Series and Cup Series events at Atlanta Motor Speedway, the first driver to sweep the two races at Atlanta, and his first wins in both series. Edwards went on to win four Cup races and five Busch races in 2005; he was not eligible for Cup Rookie of the Year (due to the number of races he entered in 2004), but did win Busch Series Rookie of the Year.
Edwards ran both Cup and Busch full-time again in 2006 and 2007. On the Busch side, Edwards excelled, finishing 2nd in points in 2006, and winning the championship in 2007; he amassed eight wins over the two year span. Edwards struggled in the Cup Series in 2006, with no wins and a 12th place finish in points; he rebounded in 2007, finishing ninth in the Chase for the Cup, winning three races.
2008 was a breakout year for Edwards: he finished the season runner-up to Jimmie Johnson in the Chase for the Cup, winning nine times. He added seven wins in the Nationwide (formerly Busch) Series.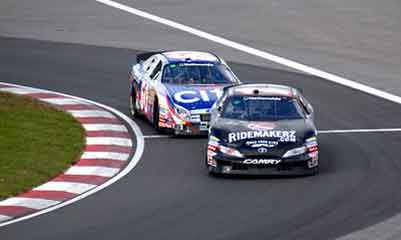 Edwards is widely known throughout sports for his athleticism, having appeared on the cover of Men's Health magazine and performing backflips after every victory (a move he began doing in the Truck Series). He has opted out of the back flip just once: after winning a Nationwide Series race in 2008, he felt it was inappropriate as NHRA driver Scott Kalitta was killed earlier in the day.
Edwards has been a participant in the "Prelude to the Dream" race at Tony Stewart's Eldora Speedway (he won in 2007), and also works with charities like Dream Factory and the Victory Junction Gang.
Sources: "Carl Edwards," wikipedia.org
"About Carl," digitaltrends.com/cars/2017-kia-gt-to-debut-at-2016-detroit-auto-show-teaser