Decorating with sheer fabrics brings an element of lightness to your home. This guide explains some unexpected ways to use sheer fabrics in your living space. It has ideas for decorating windows and furniture with voile, tulle, sheer cottons and other sheer fabrics.
One of the most common uses of sheer fabrics is for window dressing. The advantage of using sheer fabrics for curtains or window panels is that they let the light in but still give you privacy when your house is viewed from the outside. Sheer fabrics for windows include light cottons, voile, sheer linens and even tulle.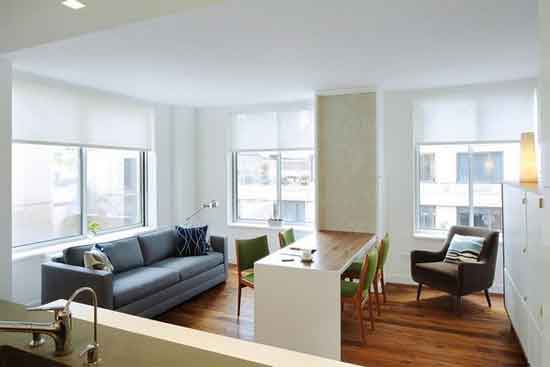 Because sheer fabrics are very lightweight, they may look too 'frothy' in the windows unless you use a tailored design. For instance, rectangular curtain panels with stitching detail or a subtle pattern adds extra weight to sheer fabrics.
On the other hand, you may be going for a light and airy look. In this case, you can emphasize the lightness of sheer fabrics by decorating your windows in a swag arrangement. Lifting the curtain fabric to create a scalloped shape accentuates the light, float quality of sheer fabrics.
Another interesting look can be created by layering sheer fabrics in your windows. For instance, layering a simple voile panel with a Roman blind creates a contrast of light and heavy fabrics. It also provides added insulation and privacy. In addition, layering fabrics allows you flexibility. You might raise the blind to display only the voile curtain during the day, and lower the blind at night.
Another popular use of sheer fabrics is to decorate a bed. Mosquito netting or voile can be draped over the posts of a bed for a soft, elegant look. Choosing an unusual color which coordinates with the bedroom is an alternative to the traditional white or ivory.
Sheer fabrics also look great when they are used to decorate furniture. Placing a table mat on a table and covering it with a sheer fabric table cloth creates a soft and elegant look. You can also layer a solid colored table cloth with sheer fabrics for diffused color.
A table skirt is easily constructed by using sheer fabrics. It gives a table an added finish. Thanks to the sheer fabric, you can still see the outline of the table. A sheer fabric table skirt is an alternative to heavy fabric table skirts which can make furniture look to heavy.