If you are living in the United States of America, then certainly you have visited one of the Dollar general stores at least once in your life. Especially if you are living in the NYC or LA areas then I can bet that you have went to their stores at least once in a month for the last 10 years!
Dollar General stores have locations in many states. The name means that generally, everything costs about a dollar. Here's one product for a dollar that works as well as if not better than the high-priced competition.
The DG Home Disinfectant Toilet Bowl Cleaner costs only one dollar for 24oz. It does the job as well as if not better than the high-priced name brands.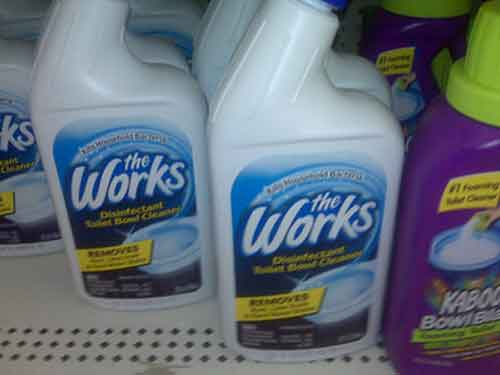 I clean houses, and don't spend much on cleaning products unless the client insists on a particular brand. Seriously, no one really cares what you clean the toilet bowl with as long as the job gets done.
I've seen streaks and stains disappear over time using this product. The bowl always smells and looks clean. Most "leftovers" clean right up after using it.
The offset neck helps get the liquid under the bowl's rim where the water enters from the tank. Mineral buildup can also cause odors there. Simply squirt the product around the rim, and let it run down into the bowl. Don't have your face near it or any other toilet product. Put the lid down and wait five minutes, scrub and flush. Some toilets may need a scrub before waiting, but that's not a problem.
This product kills 99.9% of household bacteria just like the name brands. Some of the nasty bacteria that meets its end with DG Home are pseudomonas aeruginosa, salmonella choleraesuis, staphylococcus areus and Escherichia coli. Some names you might recognize from the news, like staph, e. coli, and cholera, go here now.
DG Home removes rust stain, lime scale, hard water stains and soap scum from your bowl.
I've recommended it to friends and family. One dared me to put together a housewarming basket with things I use to clean, and DG Home was in it. The recipient was thrilled, and asked where I found it and if it worked. I let her know that everything in the basket were things I used to clean her house before she moved in.
For an inexpensive cleaner that works, this product does live up to the challenge and beyond.
Source: The author of this article has over 40 years of experience in diverse forms of DIY, home improvement and repair, crafting, designing, and building furniture, outdoor projects and more.